Deprivation in Hackney
Hackney has the greatest proportion of people living in the most deprived areas out of any local authority in England. The map below shows the relative variation of overall deprivation across the 19 wards in Hackney.
How many people are deprived in Hackney?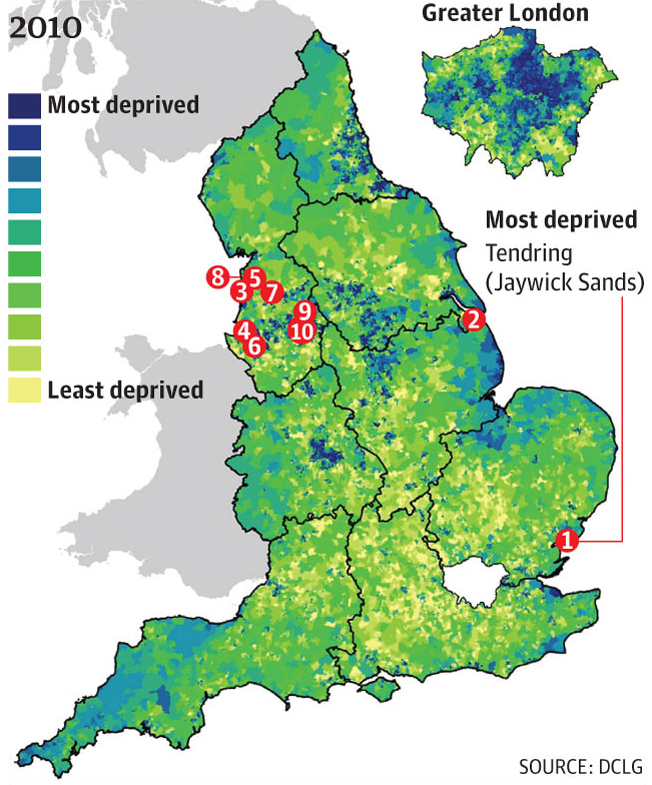 There are over 5 million people living in the most deprived areas in England, almost all (98%) are urban.
Deprivation is experienced by individuals in every Hackney ward, and many people face multiple types of deprivation.
The data is from The Overall Index of Multiple Deprivation 2010, which is created by combining weighted data from seven different domains: Employment, Health and Disability, Education Skills and Training, Barriers to Housing and Other Services, Crime and Living Environment
Income Deprivation is a measure of the number of adults and children in families on
Income Support
Income-Based Jobseeker's Allowance
Pension Credit (Guarantee)
Child Tax Credit
(and includes Asylum seekers in England in receipt of subsistence support, accommodation support, or both).
Employment Deprivation is a measure of the number of people involuntarily excluded from the job market and claim:
Jobseeker's Allowance
Incapacity Benefit
Severe Disablement Allowance
Employment Support Allowance
(and includes participants in New Deal).
Definitions of the all types of deprivation can be found here
| Hackney Ward | Population | Number of people who are income deprived | Number of people who are employment deprived |
| --- | --- | --- | --- |
| Brownswood | 9955 | 2605 | 921 |
| Cazenove | 11915 | 3692 | 810 |
| Chatham | 11696 | 3965 | 1274 |
| Clissold | 11629 | 2544 | 963 |
| Dalston | 11082 | 3562 | 1264 |
| De Beauvoir | 11081 | 2988 | 946 |
| Hackney Central | 10894 | 3616 | 1174 |
| Hackney Downs | 10904 | 3657 | 1159 |
| Haggerston | 11560 | 3782 | 1195 |
| Hoxton | 11125 | 3724 | 1272 |
| King's Park | 10653 | 3940 | 1049 |
| Leabridge | 10938 | 3029 | 1005 |
| Lordship | 11537 | 3583 | 819 |
| New River | 11353 | 3995 | 932 |
| Queensbridge | 11088 | 3664 | 1247 |
| Springfield | 11872 | 4167 | 942 |
| Stoke Newington Central | 11102 | 2669 | 1011 |
| Victoria | 12063 | 3745 | 1263 |
| Wick | 10389 | 3751 | 1181 |